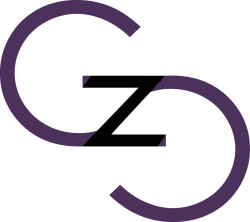 BRANDING STRATEGY
Brand: "Grizelletogo"
Slogan: "where the classroom meets the real world"
Logo: GtoG
Logo Credit: Michelle Kawas, Art Direction track FIU-Miami Ad School graduate program Class of 2016
Internet slang meaning: GtoG means "got to go"
Tone: Complexity simplified, time efficiency, "fly-on-the-wall" listening.
Color relevance: Imperial Purple Pantone 19-3528 is the most powerful wavelength of the rainbow and visible wavelength of electromagnetic energy. A color very rare in nature and the hardest color for the eye to discriminate. You cannot ignore the color purple because it commands attention. It is the color of royalty.
Concept / Strategy: portable education, on-demand content, experiential teaching, real time learning
GtoG Mission statement: to deliver the most relevant and timely information about the business of media, messaging, content and the way that advertisers connect with consumers using the platforms where they gather with messages that truly resonate.
Podcast content: Soundcloud.com labeled "Grizelletogo Podcast" and website. Podcast Content is composed of interviews with thought leaders on topics dealing with creativity, understanding audiences, media and digital developments, content creation.
Video content: YouTube videos located at  "Grizelle De Los Reyes" channel and website. Video content is composed of media math and its applications to the industry of advertising and media.
Social Media and Web support: Podcast, Twitter, Facebook, YouTube, grizelledelosreyes.com
Original Theme song: "Califlorida" lyrics, composition, vocals and arrangement by Gabriel De Los Reyes. The mythical town Califlorida is a place where "everybody knows your name", just like your social media circles. It is a laid-back place where you can be  as real (or not) as you want to be. Come as you are, invent or reinvent yourself. It covers coast-to-coast and is multicultural with many languages spoken and idiosyncrasies represented. Inspiration for the artist came from being born in California and raised in Miami, Florida. When asked where he was from, the answer was "Califlorida".